Mr Labros Chatzizisis: ViceGovernor for Rural Development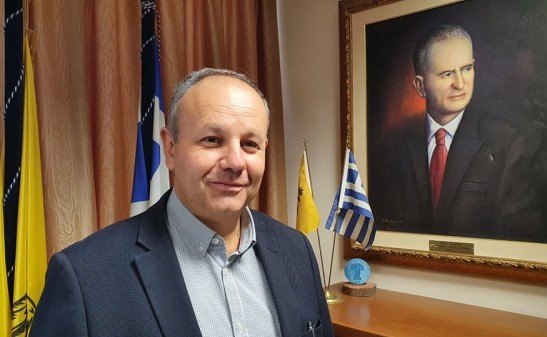 Lambros Chatzizisis was born in Larissa on April 8, 1973. He has been married since (2003) with two children.
He is a graduate of the School of Geotechnical Sciences (1999) of AUTh. and holds a master's degree (2002) from the same university in Animal Production Science.
During the undergraduate and postgraduate studies he presented a professional activity (beginning 1993) in the field of production and marketing of cheese products as a member of the family business "Hatzizisi Bros OE". based in Deskati, Grevena.
Upon completion of his postgraduate studies, he continued his activity in the field of cheese-making and at the same time he was a scientific consultant in the feed industry and in other companies in the field of agri-food.
At the same time he founded an office for the preparation of studies and agricultural programs, based in Deskati, Grevena.
Subject to the Science of Animal Production, he became a Professor of Applications at the former TEI of EPIRUS (2012).
Today he is a Professor at the University of Ioannina in the rank of Lecturer.
He teaches courses in milk technology, sheep breeding, cattle breeding, poultry farming and food hygiene of animal origin. Research and in collaboration with Regions, Municipalities and other bodies throughout Greece deals with the study of the structure of livestock farms and the planning of strategic actions for their improvement.
Social sensitivities and a sense of responsibility for the commons are the reasons why, always in a willing mood, it participates in the democratic processes of election and representation in institutions, mainly of the secondary self-government.
He served as Prefectural Councilor of the prefecture of Grevena in the period 2007 to 2010. He was vice-president of the Prefectural Council of Grevena in the period 2009 to 2010.
He was a candidate for MP of Grevena in the 2015 elections with the ballot of New Democracy.
As a Professor of Agri-Food and Animal Production, he participates in the Rural Development Department of New Democracy, where he collaborated for a long time with the Regional Governor of Western Macedonia, Mr. George Kasapidis.
Today he is Deputy Regional Head of Rural Development of Western Macedonia with the Combination of Regional Governor Kasapidis George.